Carl Clarks Hit "Losing My Carl Clarks Hit" was featured on the Club Sounds compilation.
---
Carl Clarks' "Losing My Religion" featured on Sony Music's Club Sounds Compilation.
Great news for all electro music fans! Carl Clarks' hit "Losing My Religion" is now featured on the Club Sounds Compilation by Sony Music. This compilation has been around for decades and has showcased numerous big stars of the music scene, including Tiesto, David Guetta, Robin Schulz, and Calvin Harris. Now, Carl Clarks joins these ranks, and we are proud to see him represented on this compilation.
Carl Clarks is an up-and-coming DJ and music producer from the Netherlands who has already made a name for himself with numerous productions and remixes. His song "Losing My Religion", produced in collaboration with John Laurant and Ian Storm, has already garnered over 14 million plays on Spotify and reached number one on Shazam Discovery in Spain. The song is also well-positioned on the Club Sounds Compilation, appearing at number 19 on CD 1.
We are thrilled that Sony Music chose Carl Clarks for the Club Sounds Compilation and hope for further placements in the future. Currently, the rising artist is already working on his first solo production, about which we can reveal more soon.
The Club Sounds Compilation is distributed by Sony Music and is highly popular among electro music fans. We are proud to see Carl Clarks featured on this compilation and as his team, we wish him continued success on his journey to becoming a top DJ and music producer.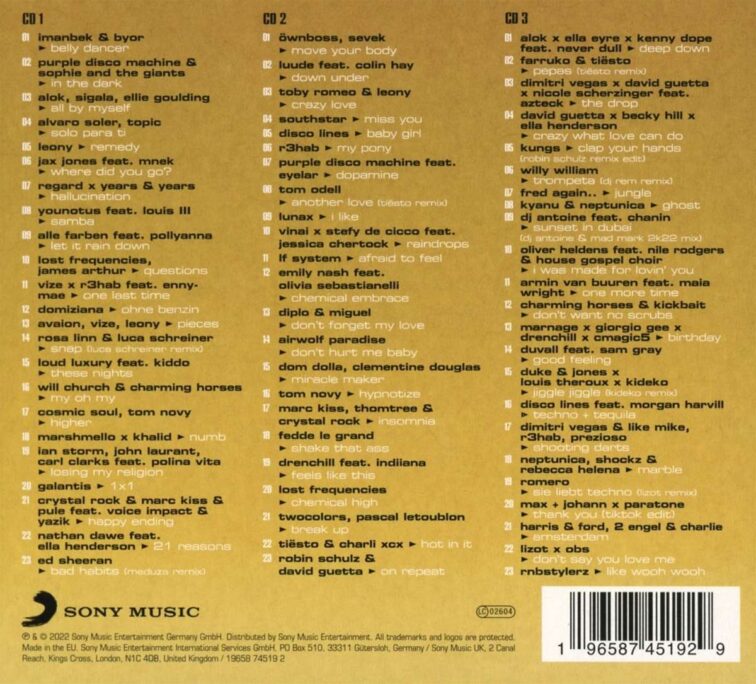 ROBIN SCHULZ CALVIN HARRIS SONY MUSIC CLUB SOUNDS TIESTO DAVID GIETTA
Club Sound Compilation: The Hottest CD of the Year!
The Club Sound Compilation is here and we can only recommend it! This CD is the perfect compilation of the hottest artists and songs of the year and will transport you into a world full of energy and movement in no time.
The compilation includes tracks from some of the most well-known DJs and producers in the scene. From pulsating beats to driving rhythms, the Club Sound Compilation offers everything that makes a club-goer's heart beat faster.
If you want to buy the CD compilation, we have two links for you. One to Spotify and one to Amazon. Whether you prefer to stream or want a physical copy, we've got you covered.
We know from our own experience that most of the artists on the Club Sound Compilation make great music and you'll definitely embark on a musical journey. There's a lot of pressure behind this!
So, what are you waiting for? Get the Club Sound Compilation and support not only us but also the great artists who made it what it is. We look forward to your feedback and wish you a lot of fun listening to the hottest tracks of the year!
Webpublisher
Information about the editor.
Levi Bakker
Contact Details
E-Mail: press@carlclarks.com
---